How "Code Red" Conditions Are Impacting Shippers
Despite economic challenges, the demand for freight continues to surge. We're seeing and hearing things we never thought we'd hear at the beginning of the year, and especially during the early onset of the pandemic.

Given these conditions, we've heard from several C-Level executives over the past two months asking: "What the heck is going on in the transportation marketplace?"

So we are excited to invite you to join us for the TranzAct, NASSTRAC and CSCMP outstanding "Code Red Freight Forecast" webinar on October 20 at 11am CDT, where you can hear directly from leading executives in the logistics industry.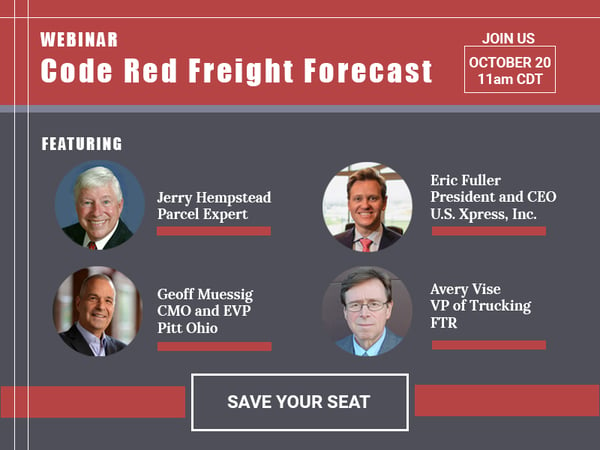 I know you are extremely busy, but here is why you and your team need to join us for this event.

On the truckload side, we've heard shippers tell us that some of their larger carriers have run out of equipment as shippers are reducing their hours at their facilities and not clearing trailers on a timely basis. Another large truckload shipper was almost in a state of disbelief as he told us about having to pay $8 per mile to move a load from California to the Midwest. And you may have your own stories and concerns about how your freight will get delivered as we get closer to the holiday season.

On the LTL side, where do we begin? Whether it's freight embargoes, the volatility resulting from unexpected declines in service levels with some of the best LTL carriers, or the imposition of surcharges for volume shipments, shippers are having to adjust their strategies as they adapt to these conditions. So before you make any decisions, this webinar will help you understand how COVID is affecting LTL carrier operations.

And given what is happening in the parcel markets, fasten your seatbelts! This webinar will give you some great insights on how to address the escalating tensions in this market.

Here are the resources you will be hearing from:

Avery Vise from FTR Transportation Intelligence has done a great job of covering the logistics market for years and will help us put the current COVID-related chaos into perspective.

Geoff Muessig will bring his insights from over 32 years of experience at Pitt Ohio and help you understand how the LTL carriers are managing service levels and the use of surcharges for "non-traditional" shipments.

Eric Fuller, the CEO of U.S. Xpress, will give us an inside look at how truckload carriers are managing through another capacity crunch, as well as what plans they're making for the future.

And back by popular demand, we'll have parcel expert Jerry Hempstead, who will share important information about what to expect from the parcel carriers.

We hope you can join us for this webinar, which will be hosted in conjunction with CSCMP and NASSTRAC, and encourage you to share this with anyone who could benefit.