Why You Need to Double Check Your 2021 Freight Budget

BY MIKE REGAN, CO-FOUNDER OF TRANZACT
CONNECT ON LINKEDIN
Yesterday we hosted our third CODE RED webcast with our friends from CSCMP and NASSTRAC. Hundreds of shippers signed up for the Code Red Ocean, Air & Truck Forecast, and based on feedback, a lot of people were surprised – dare I say "shocked" – by what they heard.
Why were they shocked? Well, let me ask you a question. Does your freight budget for 2021 include a potential 15% to 20% increase in your ocean rates or an increase in your truckload rates of 10% to 12%? I don't want you to be too shocked so we won't highlight the types of LTL, parcel and air increases that we learned about in our first two CODE RED webcasts.
Candidly, we get lots of calls and emails from shippers who are committed to preparing accurate freight budgets and are looking for our input on issues that could affect their freight costs. So we know this is an important issue. But we are concerned because very few of the shippers we have talked to have even considered including the types of increases that could occur if our panelists are right about the impact that CODE RED conditions will have on their freight budgets.
This is not a "boy crying wolf" type thing. Peter Tirschwell from the Journal of Commerce noted that unlike prior years when the West Coast ports are usually quiet in December, this year they're overloaded. And with ocean carriers for the first time ever predicting peak season conditions through February, Peter noted that ocean carriers will be headed into their contract sessions with shippers with significant leverage.
If that wasn't enough, Peter and our other panelists, John Janson, Lori Fellmer and Brent Hutto all noted that conditions in all transportation modes are not improving, in fact, they're deteriorating. And with winter weather conditions ahead as well as the potential impact from vaccine distribution, shippers should brace themselves for the possibility of significant delays.
Add it all up and you'll understand why we are recommending that shippers double check their 2021 freight budgets as they head into the New Year. All of our panelists agreed that based on the things that are happening in the ocean, air, truckload – and what the heck, we may as well add in LTL, parcel, rail and intermodal markets – shippers should assess whether they have a contingency plan in place to address big increases in their 2021 freight budgets. And we mean really big, even bordering on huge increases.
Of course, there are some things that shippers can do to help themselves. As noted in the Journal of Commerce article about the webcast, being a shipper of choice is a great strategy. And for those wondering "what does a shipper of choice look like?" John Janson suggested that first, you need to be a good steward of the carrier's equipment. And second, how you've paid your bills this year could impact how much your rates increase next year. If you've been slow to pay blaming the pandemic, expect that to be taken into account.
If you didn't have a chance to attend the webinar, we encourage you to download the recording. In addition to talking about the factors driving potential rate increases, our panelists gave tips for working with ocean carriers, analyzing data well, and more.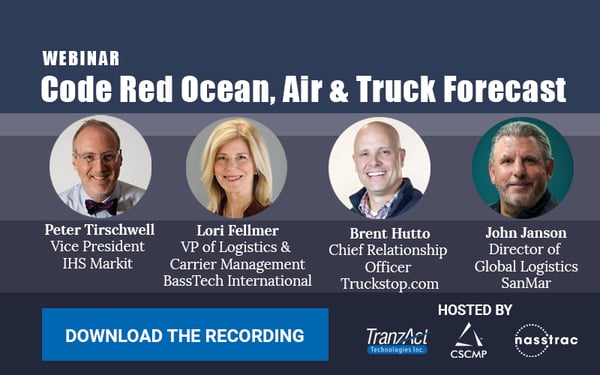 We strongly recommend checking out this recent article from the Journal of Commerce about rising freight costs. Senior Editor William Cassidy warns, "Double-digit increases in containerized imports from Asia in recent months don't show signs of abating." The article goes onto cover other modes and is a great read.