BY MIKE REGAN
Last week, I had to chuckle when one of my buddies told me that since one of the hottest trends in today's business environment is to get yourself a "Coach", he has officially designated me as the "Capacity Coach" for shippers. Like he told me: "Mike, no one is doing more to help shippers find capacity at a reasonable rate, so you're now officially the Capacity Coach!"
So I've updated my LinkedIn profile to make it official. As your Capacity Coach, I can tell you to get ready for a very, very challenging Spring!
Strict enforcement of the ELD Mandate starts in April, which means truckers without ELDs will be put out of service until they comply. And with the beginning of produce season, the normal increase in freight in the Spring, and the Market Demand Indicator already being above 50 (hint: this is not good for shippers!) you might want to ask: How much will it cost to move my freight this Spring?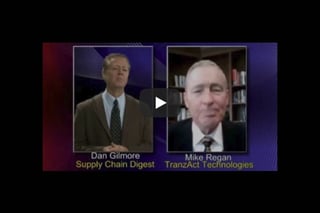 So what can you do about this? Well for starters, you can watch this video which is an excerpt from a recent interview I had with Dan Gilmore from Supply Chain Digest that includes four practical tips that shippers can do to source capacity at a reasonable cost. If you want more background to help you understand this Perfect Storm, you can watch the entire 11 minute interview here.
Hopefully you can take a few minutes to review these tips because some people who have watched it have told me, "Mike, you have to share this message with any shipper who is concerned about capacity!"
Like any good coach, I'll leave you with some practical advice. First, you must check out this interview. And if you are too busy to do that, good luck because the Perfect Storm is going to wallop your freight budget in 2018.
Second, after listening to the interview, take a look at the outstanding resources in our Transportation Market Storm Center.
Third, if you're looking for individual advice, please give us a call at 630-833-0890 or send us an email. We're here to help.