BY KEN LOUISE, SENIOR MANAGER OF TRANSPORTATION SYSTEMS
We've been thrilled to work with Idahoan. Not only do we love their potato products, but we love how our partnership has created a smoother process for managing deliveries. Idahoan sells to all the major grocery chains and ships about 4,000 loads per year through intermodal, full truckload, and LTL using about 15 different carriers or brokers. When they were looking for a Transportation Management System (TMS), they had a keen understanding of their goals and this benefited the partnering process.
What were Idahoan's goals?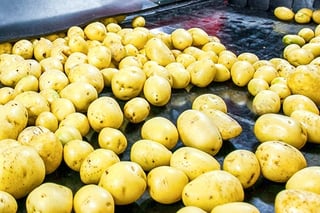 A few of the big picture items they had in mind were:
A company that would be an extension of them – people who "cared about their business as much as we did," according to Idahoan's Cameron Kelsey, rather than a one size fits all approach.

A system that would help them to make the right routing decision – in terms of both cost and service.

Automation of administrative tasks such as tendering, invoicing, and checking up on the status of loads.
How is Idahoan benefitting from Constellation TMS?
Idahoan found several benefits from Constellation TMS. In addition to meeting the goals above, and here are some of the improvements they've seen:
Better carrier relationships and lower rates. The self-invoicing process helped them to save time and keep their LTL rates and truckload rates down since it makes the payment process hassle-free and assures on-time payments. The dock scheduling feature also helped them to be a preferred shipper with their carriers since it reduces the chances for confusion and detention.
Greater visibility for their shipments. The dock scheduling capability gives them one place where several people in their organization can look at all their docks simultaneously and see how they're doing for the day. Since information was in many different places before and often needed to be tracked down, this saves a great deal of time.
Reliable reports for any information they need. As Cameron mentioned in a video interview with us, they've received "any data we wanted at any interval that we want". In line with serving as an extension of Idahoan, the Constellation team adjusted a key report that showed cost per pound and cost per mile for different lanes since this is a critical metric that they need to compare their current performance to their standards. Other key reports that Idahoan has found helpful are accrual reporting, reports on accessorials, and carrier on-time performance to their customers.
It's time for greater visibility and automation
As retailers like Walmart and Target tighten their delivery window, it's getting more and more important to have the tools to stay ahead of the game.
One piece of advice Cameron from Idahoan shared is that picking up a phone to book loads or paying paper bills are very expensive activities. As he mentioned in our video interview, "A good TMS can not only help automate some of those more administrative tasks, but it also provides the visibility for you to run and improve your business."
If you'd like to learn more about how Constellation TMS can give your company a competitive advantage, we encourage you to schedule a demo or send us an email. We can give you a high level overview or go into as much detail as you'd like.