The industry of logistics and transportation is changing faster every year. To examine the goals of transportation departments and avoid another future capacity crunch, a group of experts from CSCMP in conjunction with others created a new study, Logistics 2030: Navigating a Disruptive Decade. Their findings draw on surveys, focus groups, and individual interviews as well as broader industry research.
With so much change each year and increased competition, it is important for companies to always be evolving. Transportation is an industry with growing importance and having a tactical approach, including "tailoring service to customer needs, maintaining operational flexibility and capacity, advancing technology, and maintaining an extensive service network", has become essential for "transportation excellence".
One trend has been a greater reliance on a 3PLs and by 2030 experts are predicting that adoption of an outsourced or a hybrid model will increase from 61% to 76% in technology and from 40% to 64% in compliance. Not only that, but 89% expect transportation to become a top priority for their company. Since more companies are coming to rely on outsourced logistics, the importance of choosing the right service provider has become a key strategic consideration.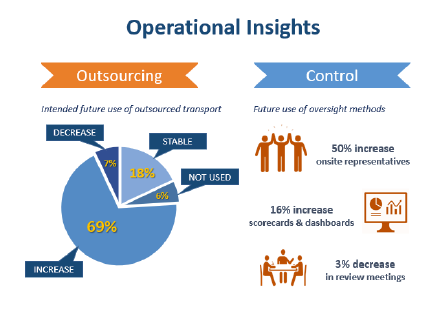 Talent is another area that could be pivotal for logistics companies. Winning the talent war is especially important in a field like logistics where there's not a large pipeline of people entering the industry, despite the growing need for it. In fact, this report shows that the number of people going into the transportation industry has been falling in recent years. That means that companies will need to "nurture internally" to build up future leaders. They'll also benefit from pursuing active methods of seeking out prospective candidates–such as employee referral programs, internships, and networking at industry events.
According to the L-2030 panel of experts, businesses need to seek out individuals who are analytical, good at communication and relationship management, a leader, and, most importantly, a problem solver. From there, companies can begin to put more effort into helping these individuals to hone and grow their skills, and can then become a future leader. More companies have begun this process of investing in a development program.
In a recent survey "over 55% of the respondents anticipate having a formal transportation management talent development program by 2030." This development is essential to the retention rates and future success of a company.
And lastly, but definitely not least, companies need to integrate the use of technology into their work. Though there are concerns that technology will be too costly and that it will not achieve the benefits it seems to promise, new options will be needed to streamline shipping. Justin Rose, a managing director at Boston Consulting Group, points out that "deploying and integrating technology" is critical to "drive productivity gains". Among the advances sought from technology, companies noted "decision-making speed with accuracy, end-to-end visibility, cost savings, and labor productivity".
To end on a good note, the report indicated that companies are taking notice of the changing environment and are planning accordingly so that they navigate this new climate. Alongside new partners, they're advancing their everyday tactics, planning for future logistics leaders, and digging into new technology. For more, download the Logistics 2030 Report.