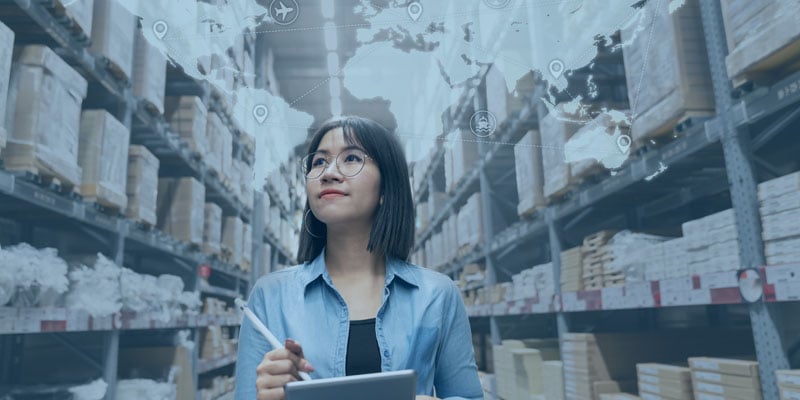 The last decade closed out with many media stories raising awareness of the need for women's place in society to advance. To start the year on an encouraging, positive note, here are a few areas where we're seeing progress in the field of logistics or in the bigger picture. We hope that these stories will provide motivation to keep pushing forward.
The Workforce Now Has More Women Than Men
The latest jobs report for December 2019 showed that women held more U.S. jobs than men for the first time in a decade, as highlighted in a recent WSJ article. Part of the reason for this is that sectors that typically employ more women are growing while male-oriented sectors, such as manufacturing, are in decline. Women are just a slight majority at 50.04%, but more women participating in the workforce improves the likelihood for their advancement in the future in all fields, including logistics.
The Logistics Industry's Top Award in 2019 Goes to Kathy Wengel
The Distinguished Service Award issued by the Council of Supply Management Professionals (CSCMP) is known by many to be the industry's top individual supply chain honor. In September of 2019, this award went to Kathy Wengel, the EVP & Chief Global Supply Chain Office at Johnson & Johnson. She is the third woman to win this award, which dates back to 1965.
More Women in the Logistics Workforce
While the numbers aren't in across the board, several logistics companies are noting growth in the numbers of women in their ranks, such as DHL and Dupre Logistics.
MasterCard Index of Women Entrepreneurs Provides Insight for Areas of Growth
In November of 2019, MasterCard released the third edition of its MasterCard Index of Women Entrepreneurs (MIWE), which measures the conditions within countries around the world for women to start a business. The latest study shows that differences are driven by more than singular factors such as a country's income level or geographic location. For example, some Asian countries considered high income—such as Taiwan, Singapore or Hong Kong—rank highly on supporting women in entrepreneurship, while others with a similar profile do not—such as Japan and South Korea.
Another varied finding is women's reason for becoming an entrepreneur in the first place. An article in Payments Journal that covers the report observed:
"Women become entrepreneurs for many different reasons. One impetus is opportunity – they have ideas for how to improve an industry and have confidence in their ability to make an impact. Another motivator is necessity – for whatever reason, owning a business may be more practical in the long run, perhaps due to lack of support for women's participation in the traditional workforce, or lack of access to the necessary education to join the labor force. While MIWE shows that generally more women entrepreneurs start their own businesses due to perceived opportunity rather than out of necessity, a deeper dive into the results reveals that it is some of the lower income economies that exhibit some of the highest rates of female business ownership."
The article goes on to advise that the keys for supporting growth of women in entrepreneurship will be providing access to financial resources, fair policies, and good education.
As a new decade gets underway, it's an opportune time to be a woman in the logistics industry.