Shippers tend to retain a freight audit and payment company for a long time, which means choosing the right one is a big deal.
Since our company was founded as a freight audit and payment provider and has been in this industry for over 30 years, I'm sharing 10 common considerations that shippers should take into account when choosing a partner. The purpose of this list is to help companies have a framework for making a decision -- please keep in mind that this is by no means an exhaustive list and your company's top priority may fall outside of this list depending on the nature of your business. But this list is a great place to start for shippers who want to avoid a silo approach to selecting a freight audit and payment provider—and it's not just a matter of price. The right provider isn't a COST to your company, but a partner who can deliver VALUE. How? Read the list!
#1 - Reputation and Stability
It's important to know how long a company that offers freight audit and/or payment services has worked in this area, and how much business they've done (i.e. number of bills processed and total amount processed annually). You'll want to find a company that has not only capabilities, but a proven track record.
We've seen a few freight payment companies operate with financial models that don't work for them or their customers, and we know the details because we have purchased some of these financially distressed freight payment companies. There are some "Do's and Don'ts" when it comes to the control of freight payment balances. One "don't" to watch out for is commingling freight payment funds with operating funds. And a "do" to look for is annual reports that are available to review, such as a SOC 1 Audit Report.
#2 - Customer Service
This might seem like an obvious one, but for many companies, the focus is simply on processing bills that come through, not on the client relationship. How soon will someone get back to you when you have a question? Will you be able to reach a person over the phone? Is there a person that will be assigned to your company so that they can make continuous improvements? These are some of the questions you want to ask when it comes to customer service.
#3 - Funding Options
There are several different ways that funding of carriers can happen. You'll want to make sure that any freight audit and payment company you work with gives you options and that the option that's best for your company is included in their offerings.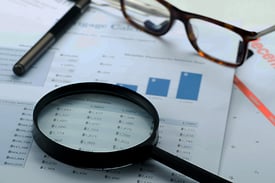 #4 - Visibility
It's good to have a system that allows you to see what stage invoices are at as they're processed. This system should also have the capability for you to make invoice resolutions so that they can move forward. Investigate your potential provider's tools to be sure they are simple to use and have the capabilities you need to get your bills processed quickly and accurately.
#5 - Turnaround Time for Funding
It's important to know that a company you work with has a typical turnaround time from the moment they receive the invoice to the time it's funded. This is usually different for EDI and paper invoices. You'll want to be sure your freight payment partner is on top of carrier payments, because that is a huge part of maintaining a good relationship with your carriers, which in turn plays a big role in obtaining and keeping the best possible rates.
#6 – Coding and Reporting
There's more to audit and payment services than ensuring that you're not paying duplicate invoices or overpaying. These services should also include the ability to code invoices so that you can allocate expenses and the ability to run reports on your data. Check and see if the company offers the coding abilities your company needs, as well as the flexibility to accommodate what you may need in the future. I also recommend finding out what standard reports they offer, what customized reports they can create for you, and how you'll be able to access these and share them with others on your team.
#7 - International Capabilities
If you have the need for international processing, then it's important to know if the company you work with has the ability to convert invoices into different currencies and languages. You'll want to know how currency is converted and what exchange rates are used.
#8 – Carrier Support
Find out what type of carrier support will be offered. They could be offered live support, a dedicated website to check invoices, or other capabilities. As I mentioned previously, keeping a good relationship with carriers is essential, and the provider you chose will be a part of that picture.
#9 – Electronic Invoice Capabilities
Will the company you work with help convert carriers to EDI? Do they offer online invoice data entry capabilities for carriers who aren't able or willing to use EDI? These abilities are important since they reduce the cost of processing invoices and improve data accuracy. Find out what's offered in this area.
#10 - Diversity
If your company is tracking its diversity spend, you may want to target a company that is owned by a woman, minority, disabled veteran or another group that reflects your company's goals.
Conclusion
There are many other considerations to make when choosing a freight audit and payment company, but hopefully this will get you headed in the right direction. The right partner can not only deliver savings based on their audit and payment capabilities, but can deliver valuable insight into your overall transportation spend through the data they provide. Make sure you find a partner with the capability of capturing and reporting on your data in a meaningful way, and even better, a company that has the experience and track record necessary to help you interpret how to use that data to better your supply chain. If you have any questions or suggestions, please get in touch.
Conducting an RFI or RFP? If you'd like TranzAct to provide a proposal, please send an email to solutions@tranzact.com or call 630-833-0890 and ask to speak with a member of our sales team.