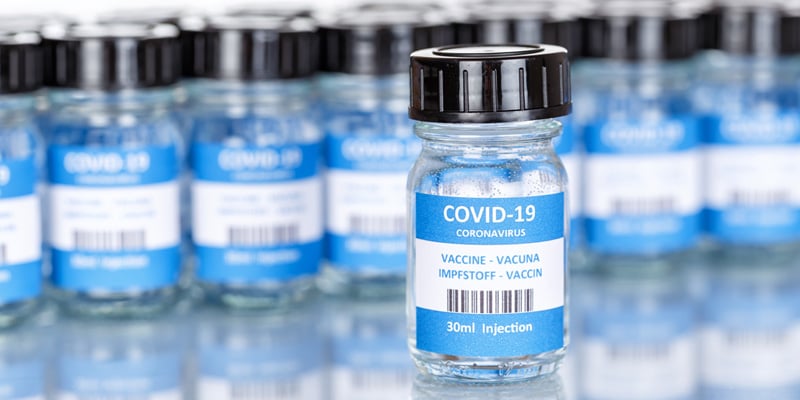 BY JEAN REGAN, PRESIDENT & CEO
Now that the Pfizer and Moderna vaccines have been approved and distribution has begun, we can all breathe a small sigh of relief.
While this holiday season is far from ideal for many, one thing we can all be thankful for during this time is the sophistication of the vaccine and pharmaceutical chains in the United States.
Operation Warp Speed is truly living up to its name, which is especially remarkable since other attempts to produce an effective vaccine or cure for a coronavirus (and there are several of them, including SARS and the common cold) have taken years and failed. However, the COVID-19 vaccine is showing much higher than anticipated success rates—around 95% effectiveness for both the Pfizer and Moderna vaccines.
One thing I find amazing about the COVID-19 vaccine logistics is that about a day after FDA approval of the Pfizer vaccine, distribution began across America. This was made possible by the United States government taking the financial risk upfront so that companies could begin manufacturing the vaccine ahead of approved trials. Earlier in the year, the government invested in five vaccines and made pre-purchase agreements for six vaccines to distribute the risks and opportunity.
The government also established a contract with health care distributor McKesson, who works with UPS and FedEx as the main delivery subcontractors. Rehearsals have been held to ensure that distribution will go as smoothly as possible—no small feat.
UPS and FedEx will be invested in the delivery process like never before. Both UPS and FedEx have taken on producing dry ice to ensure that they'll be able to store and move vaccines at their temperature requirements. Not only are they producing dry ice for their own shipments, but they'll also be selling it to places where the vaccine is used like hospitals in the United States and Canada. Pfizer's vaccine has a temperature requirement of negative 94 degrees Fahrenheit, while the next vaccine likely to be approved that's made by Moderna requires negative 4 degrees Fahrenheit. AstraZeneca is also developing a vaccine which will only require normal refrigerator temperatures, and will be used for cases where freezing isn't possible in many other parts of the world.
Another aspect of the delivery efforts worth noting is that the COVID-19 vaccine has given rise to developments in freezing equipment options. To date, freezers that provide ultra-low temperatures have been bulky and had unique power requirements. To alleviate this problem UPS partnered with Stirling Ultracold, a refrigeration and freezer company, to garner new portable freezers for the vaccine.
There's still a long road ahead. In coming weeks, about 20 million doses are expected to be available, which will almost cover the 21 million front-line healthcare workers who are first in line to receive the vaccine. Next year, it's estimated that it will take until around May for bulk of the population to be vaccinated.
Whatever the timeline is, we'll be rooting for everything to go as smoothly as possible and bring an end to this pandemic for good.