The threat of disruptions is something that's been near the top of many shippers' minds since the shutdowns earlier this year, and with COVID cases rising, it's a valid concern.
More factors than ever before have made supply chain disruptions and escalating rates a real challenge. To get a better idea of what's at hand, we hosted a Code Red Freight Forecast webinar in conjunction with CSCMP and NASSTRAC this month. Since we know you're busy, here are some of the highlights:


Strong Spot Volumes, Especially in Dry Van
Avery Vise, VP of Trucking at FTR Transportation, shared how the different drivers in the market are making an impact. "We have strong spot volumes in all segments, but dry van is really the one that's operating the most at consistently high historical levels."
As you can see, after a slump earlier in the year, dry van spot loads have been above normal for the past 15 weeks.
With Concerns in the Parcel and LTL Sectors, Be Careful with Customer Commitments
Parcel expert Jerry Hempstead cautioned shippers on their delivery promises heading into the holiday season:
"Prime Day is just behind us and Amazon reported an increase of 60% for the small and medium sellers. The message for those who are listening: if you have a counterpart that's in charge of customer service, you need to set expectations ahead of time. You can't be making delivery promises because the parcel carrier eliminated their delivery guarantees some time ago and we're not going to see it restored anytime soon."
He reminded shippers that reverse logistics may keep these conditions going into 2021, especially with the holiday return patterns in force.
While the earlier than usual Prime Day may have flattened the online holiday shopping season somewhat, the increase in sales indicates that consumer spending will continue to be strong for some time.
Truckload Rates Are Rising Due to Many Factors
Eric Fuller, President and CEO of U.S. Xpress, explained how driver retirements, shutdowns at driving schools, and other factors have narrowed the pool of truck drivers and caused the need for increased wages:
"One thing for customers to think about is that driver wage cost is about one third of our overall cost."
He went on to explain that increased driver wages alone could account for 5-7% rate increases, and when you factor in increased insurance costs and inflation, we could be in the neighborhood of 10-15% rate increases.
We're also looking at above average demand. Avery explained, "The story of the recovery has been the consumer sector. Retail and food service sales have more than fully recovered from the contraction."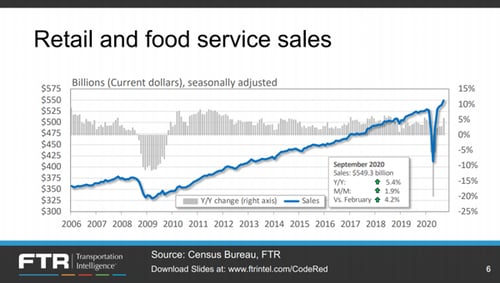 Industrial production is a different story – after four months of gain, it's been on the decline and is down overall, leaving the flatbed market still slightly down.
COVID Still Slowing Down Deliveries
Geoff Muessig from Pitt Ohio explained how social distancing measures and reductions in open dock doors at some facilities has extended the time needed for deliveries and stretched their staff thin.
"What might have been a 15 or 20 minute delivery can now stretch into 40 or 45 minutes. We do about 14,000 deliveries a day – you add just even 10 minutes to each delivery a day for 14,000 shipments and you can see how costs quickly escalate."
Geoff also shared tips for working with LTL carriers to get lower rates.
LTL Carriers Are Capturing the Overflow
Geoff Muessig from Pitt Ohio shared that LTL carriers are seeing overflow from both truckload and parcel carriers coming into their market:
"LTL carriers over the last 15 years have been complaining that truckload carriers are taking their heavyweights and parcel carriers are taking their minimum charges. Well amazingly in 2020, that situation has reversed, and the business has cascaded back on both ends to LTL carriers."
This is definitely not a typical situation—the suddenness of the rise in demand has created a unique time for the LTL carriers.


Carriers Care About Loyalty, But That's Not All
We heard both Eric Fuller and Geoff Muessig emphasized that they'll give priority to their long-time customers and shippers who stuck with them through the slump earlier in the year. However, being carrier-friendly is still part of the equation. As Eric Fuller explained:
"Shippers that we have long-term relationships with—we'll be prioritizing those shippers. I would say though in general, there are a lot of factors that go into it. We talked a lot about rates, but rates really aren't 100% of the factors on who we're going to do business with and what scale. And a lot of it is how they treat the driver, the driver experience at both the pickup location and the delivery location, and we are starting to use technology to aggregate all that data from our drivers. We can tell which locations, how long they take to load a trailer, to unload a trailer, what are the appointment times, are they matching the appointment times, how long are they tying the drivers up getting into the gate; all of those things we're measuring."
He went on to share that they're also capturing feedback from drivers about their experience at different facilities. With an anticipated driver shortage and driver wage increases on the horizon, carriers are looking at the ways to keep their crew.
Register for the Next Webinar:

Code Red

Freight Solutions
By popular demand, we're hosting a second Code Red webinar on Tuesday November 17 at 11am CST and the focus on this edition will be on practical solutions shipper can use to manage in these times.
Hear the Full

Code Red

Freight Forecast Webinar
To hear more insights from the panel about what's happening in the transportation market, we encourage you to listen to the recording.