Hanjin Shipping Files for Receivership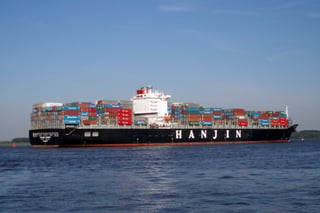 For those of you who have Import/Export activity in Asia, there has been an important development which could affect the flow of containers in to or out of the Ports in the United States.
One of the Industry Boards I serve on, (National Industrial Transportation League - NITL) sent out this notice to its members:
"On August 31st, Hanjin Shipping filed for receivership, which would lead to the largest container line bankruptcy to date. With 98 container ships operating in 74 routes in the liner trade, along with marine terminals and bulk operations, even those that have never shipped with Hanjin may feel the effects as services are disrupted and capacity tightened further - particularly in the Far East/USA trade, where carriers had already withdrawn vessels to prevent the further erosion of freight rates and support their efforts at regaining profitability.
While everyone will look to minimize their risks and financial exposures, the fact is that cargo has to move and get delivered to its intended destination as safely and expeditiously as possible. The League is calling on all parties to work together to minimize the impact of this situation, use their available resources to protect cargo, facilitate the movements, and mitigate the costs, which will be borne by all.
Hanjin released a statement that said in part: "Even under court receivership, the Company will exercise its utmost efforts to fulfill its duty to protect the interests of customers.In this regard, we would like to ask for your kind cooperation in our continued efforts to resolve various issues that may arise."
However, we have already seen their own partners in the CKYHE alliance refusing to handle any Hanjin containers, port authorities blocking Hanjin vessels from berthing, and terminal operators refusing to handle or accept any export or empty containers and insisting on payment in advance of any import container releases. At least one Hanjin vessel has already been arrested while docked in Singapore.
The League recommends that all shippers with cargo on board Hanjin vessels or inside Hanjin containers check with their insurance companies and attorneys to ensure that their interests are protected."
Important to note: Hanjin filed for bankruptcy after failing to restructure $5.5B in debt. They are the 7th largest ocean carrier with about 3% of capacity in the market. Many ports have already moved to block their ships from coming in, which will disrupt shipping in peak season. Some carriers are instituting ~50% GRI's in Asia to US lanes! Expeditors is one of their largest customers, so if you are in touch with anyone that is using them, you might want to make sure they know.
As an FYI, I have also included links to several articles from the Journal of Commerce regarding this event. These articles highlight the fact that with Hanjin's bankruptcy, shippers may see sharp increases in the cost of containers and delays in transit until this gets sorted out.
US marine terminals take varied approach to Hanjin fallout
Trans-Pacific inbound spot rates soar on Hanjin collapse
FMC to US shippers: Report unreasonable practices tied to Hanjin bankruptcy
Hanjin bankruptcy preventing empty containers from moving to Asia from US
North American railroads give mixed message on Hanjin response
US truckers, chassis providers struggle with Hanjin chaos
HMM to deploy ships to gather up Hanjin cargo
CMA CGM assures customers over Hanjin collapse
Shippers paying to free stranded Hanjin containers
Korea regulator urges HMM to pick through Hanjin assets
Hanjin cargo idled until cargo handlers get paid
Hanjin unraveling as US import rates set to soar
MORE RESOURCES: