Truckload rates could jump 25 percent in three years
As published in the Journal of Commerce on June 26, 2015
U.S shippers and third-party logistics providers could see truckload rates increase by as much as 25 percent over the next two to three years, according to one of the heads of the largest privately held freight payment company in the U.S.
"We've had for many years a sea of relative calm. Things are changing," TranzAct Technologies executive Michael Regan said in a conference call with Stifel transportation analyst John Larkin Friday.
His remarks echoed the conclusions of a recent State of Logistics report out of the Council of Supply Chain Management Professionals among others, which have found tightening capacity fueled by growing demand means the end to historically low logistics costs.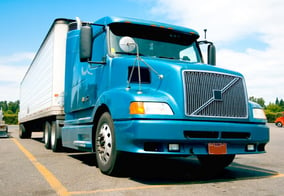 According to Regan's data, capacity at public fleets, including owner operators, in the fourth quarter of 2014 was 9 percent below peak levels seen in the fourth quarter of 2006. Recruiting, seating and retaining drivers has been and continues to be the top operational challenge for carriers, Regan said.
Carriers have also made a number of changes that haven't helped capacity, Regan added.
The age of Class 8 trucks has increased considerably over its historic norm. The average age for class 8 trucks in 2014 was 5.9 years old, less than a year older than the average age in 2010 when average age hit its peak.
Increases in the cost of purchasing new equipment coupled with reduced trade in values is impacting carriers' buying decisions, Regan said.
Declining truckload miles per month per truck is putting further strain on overall rate structures, he added. According to the American Trucking Associations, between 2007 and 2014 mileage dropped some 25 percent.
In order to maintain and build out their workforce, "truckload rates may need to rise as much as 12 to 18 percent for higher driver wages," he said.
Tightening capacity is just one of the factors behind the rising rates, Regan said. Operating costs continue to go up and government regulations have increased the cost of doing business across the industry, Reagan said.
"Your company could see rate increases of 22.6 percent," Reagan told shippers and 3PLs on the Stifel conference call Friday.
All this change, though, is what Regan characterized as a "predictable surprise" and something shippers can and should prepare for.
"I have yet to have somebody come back and disagree with what I'm saying," he said.
Whether the resources are available to prepare for what some have called the upcoming "capacity crisis," is up for question. Whether the signs and time are there for shippers and 3PLs to react, is not, Regan said.
He urged listeners not to fall prey to same disillusion that prefaced the chaos of the recent West Coast port crisis.
"Everyone knew we had a port contract expiring June 30 of that year, but everyone continued to believe the union and [Pacific Maritime Administration] would work things out," Regan recounted. "They didn't."
Shippers can't let that happen again.
"We tend to harbor illusions that things are better than they are," he said. "We are seeing trucking rates going up and the practical implications of these issues mean that if you continue to do thing the way you've always done them, you will be paying more to move freight."
Contact Reynolds Hutchins at reynolds.hutchins@ihs.com and follow him on Twitter: @Hutchins_JOC.