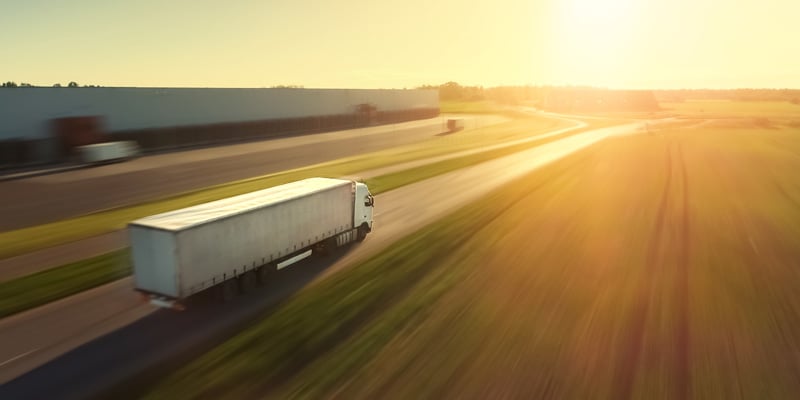 Initially published in Logistics Management by Jeff Berman, Group News Editor · September 11, 2019
A year ago this time, it is fair to say that the trucking sector was running strongly on all cylinders, buoyed by very strong economic fundamentals, a high level of consumer confidence, and tight capacity, which helped drive rate growth.
But fast forward a year later, and it is clear that the tables have turned on myriad fronts, with capacity looser, especially for this time of year on the truckload side, and rates viewed as fair when compared to 2018.
In a recent conversation I had with Mike Regan, chief relationship officer for TranzAct Technologies, a privately held logistics information and freight audit and payment services provider, about the current state of trucking, he said the following: "To say the difference between 2018 and 2019 is 180 degrees may be an understatement."
As for the reasons for this, Regan pointed to myriad reasons for the 180, including the cycle being driven by demand issues, coupled with the volatility of cycles as the highs are getting higher and the lows are getting lower. And he also observed that softness on the demand and supply sides continue to be major factors in the differences between 2018 and 2019.
I recently had an opportunity to listen in on a Webcast hosted by TranzAct Technologies, which featured three prominent trucking executives––Thom Albrecht,CFO of Celadon; Derek Leathers, president and CEO of Werner Enterprises; and Jeff Rogers, CEO of Universal Logistics––and it is fair to say that they did not disappoint in providing their unique takes on the current temperature of trucking.
Albrecht explained that up until around mid-2019, roughly 80%-to-85% of the things carriers had been experiencing was due to the infusion of supply and what he called a modest downtick in demand, with demand becoming more uncertain in recent months.
Signs of declining demand were evident in the most recent manufacturing data points issued by the Institute for Supply Management, which Albrecht said serves as a future gauge of freight production. ISM reported in early September that its key manufacturing reading, the PMI, was below 50 (a reading of 50 or higher indicates growth is occurring) for the first time since August 2016, with new orders, the most direct indicator of demand, negative for the first time since December 2015, snapping a 43-month stretch of growth.
"Supply was the biggest impact on the first half of the year, and it continues to be an overhang but more concerning has been the little bit of a drop-off in demand. Since mid summer that has been a little bit more pronounced and I blame that on Washington," said Albrecht.
Universal Logistics' Rogers said that the changes in trucking, from 2018 to 2019, were unexpected, in the sense of how rapidly things have changed, noting how things have been softer than expected on the truckload side since the beginning of 2019 and never really came back.
What's more, Rogers said that while current freight volumes are not "horrible," they are OK but not as strong as what was expected either. And he was succinct in describing how current trends point to signs of a lack of a typical Peak Season for this time of year, too.
"There is still a lot of uncertainty, and a lot of that is driven by what is going on with things related to trade and tariffs, among others," he said. "But clearly there was some over-exuberance last year that created maybe some of the extra capacity, because many thought this cycle would last a lot longer than they normally do but that was not the case."
Werner's Leathers said that while the 2018-2019 cycle looked like previous ones, it came at a much more rapid incline and decline than what has previously been seen.
While 2018 was a historic year for trucking, Leathers said what gets overlooked is how quickly the market changed, how tight it got, and how volatile the situation became in a rate environment that increased more rapidly than in previous cycles.
"[Werner] compared results in the trucking sector to S&P 500 and then the broader overall total publicly traded universe and in 2018 capital expenditures for trucking was about 2.2 times a percentage of revenue that it was for publicly traded universe of companies," he said. "And earnings in 2018 were about 30% lower than that universe of public companies. My point being that trucking is a very capital-intensive business."
After listening to the perspectives of these three high-profile trucking executives, It is fair to say that the difference a year has made in trucking is clear. What happens from here is unknown, but it is fair to say it will be a ride filled with both bumps and smooth pavement along the way.