Caution: Supply Chain Disruptions Ahead
For the last couple of weeks, we've been using these Two Minute Warnings to alert shippers about the impact that "Code Red" conditions in the transportation marketplace will have on their fourth quarter business activities. Some members of our audience have confirmed they are already being impacted by these conditions. But some of you may be wondering: "Is it really as serious as you're making it out to be?"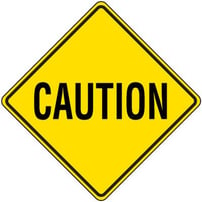 Since we are limited by time and space, let me share some examples of things that are actually happening in the transportation marketplace, and then you can be the judge.

For ocean shipments, this week The Wall Street Journal reported a 182% increase in the spot market ocean rates to ship a container from Shanghai to Los Angeles in the third week in September. As we noted in our interview with John Janson, everything indicates that ocean carriers will continue to use "blank sailings" to keep capacity tight, so don't expect any relief over the next couple of months. Add it all up and it's not too surprising that this week I heard from a CEO who was pleading for help on moving containers in this lane.

On the parcel front, this week a shipper with a $40 million parcel spend told me that their costs for moving "heavy shipments" (shipments over 50 pounds) increased by 63% and they are seeing other sharp increases in accessorial charges. We covered many of these issues in our interview with parcel expert Jerry Hempstead.

There is substantial turbulence in the truckload, intermodal and LTL sectors. Perhaps that is why Derek Leathers, Werner's CEO, told the audience at CSCMP's recent Edge Conference that in the fourth quarter of 2020, many shippers will either pay a lot more to get their freight moved or experience disruptions because their freight didn't arrive on time. Of course, this pretty much echoes what we learned from our recent interview with Darren Hawkins, the CEO of YRCW. And when you see the Union Pacific imposing a $3,500 surcharge when the number of containers being moved exceeds a certain volume, it underscores the volatility that shippers are having to contend with across all modes.

So for all of you "Doubting Thomases" out there, please heed the warning signs. Plan ahead or get ready for supply chain disruptions and perhaps stunning increases in your freight costs. If you want to avoid that scenario, send me an email or give me a call. We'd be happy to meet (virtually, of course) with your team, send a more detailed analysis of what is happening in the transportation marketplace, and also share how valuable our Rapid Assessment process can be in protecting your supply chains and avoiding disruptions.