Two (of Many) Reasons Why Sourcing Truckload and LTL Capacity is Unique

In last week's Two Minute Warning, we mentioned that we would be hosting our "What You Wish Your CEO Knew About Truckload and LTL Freight" webcast with our friends from CSCMP's Center of Excellence on November 15th at 10am Central/11am Eastern.

Well, guess what happened? Some members in our audience contacted me and let me know that apparently there are a whole bunch of things that they think their C-Level executives should know. But since TranzAct and CSCMP are in the supply chain and logistics areas, this webcast will be focused on what shippers wish their C-Level executives knew about the differences between sourcing truckload and LTL capacity versus sourcing traditional commodities and services.

Let me cut right to the chase. If you are a shipper with any volume of freight and you and your team are not yet signed up for this webcast, BIG MISTAKE! The presentation that Dr. Chris Caplice from MIT and DAT gave at CSCMP's Annual Conference was one of the best I have ever heard in addressing what makes sourcing transportation capacity different and unique.

So, I reached out to Chris and he has agreed to share his thoughts on what you wish your C-Level executives knew on this webcast. He will be joined by Kevin Smith, who prior to his retirement was the Senior VP of Supply Chain for CVS. Together they will provide you with valuable insights on how to conduct better transportation sourcing events.

After some of you shared your thoughts about "stuff" your C-Level executives knew, you asked for some practical examples of what makes sourcing transportation capacity unique. In response, in this week's video we highlighted a couple of key factors that are unique to the transportation sourcing function.

For example, Chris pointed out that the variability that's in the typical arrangement between a shipper and a carrier can create challenges. When shippers put out RFPs, they will typically put the anticipated volumes that will be moving in various lanes. In response, the carriers will frequently identify the freight they can handle and the capacity they will commit in responding to the RFP. Often times, the anticipated and actual volumes from the shippers don't match, and the capacity the carriers committed may change as well.

Another unique aspect of transportation sourcing is the inability to control certain variables which affect the carriers – especially the carriers' cost structures. In essence, the carriers will be bidding on business that has the "great unknown." For example, while the carriers will know what to expect when they show up at your docks, more often then not, shippers have no control and very little knowledge of what actually happens when your carriers pick up freight from your suppliers or deliver freight to your customers. These are issues that could easily have an impact on a carrier's cost structure.

Chris had several other examples. And Kevin will share his insights about how to communicate this information to your C-Level executives. Let's face it, if your C-Level executives don't understand things like these, they're going to be asking a lot of questions to you or others or wondering why the company's freight costs aren't lower than they think they should be.

So let's make this simple. GET SIGNED UP today and join the webinar: "What You Wish Your CEO Knew About Truckload and LTL Freight".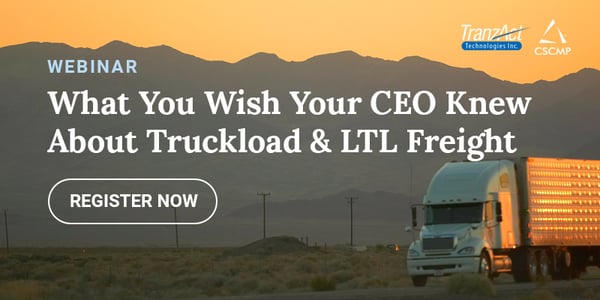 Freight Market Update - Fourth Quarter 2022
We are pleased to release our Freight Market Update for the Fourth Quarter. We appreciate the positive feedback on these quarterly reports and the valuable information about the trends happening throughout the transportation industry that impact your rates. This report covers the trends in the economy and several modes including truckload, ocean, and air. Get insights on how changes in demand and other factors could impact your overall transportation plans.
BY MIKE REGAN, CO-FOUNDER OF TRANZACT
CONNECT ON LINKEDIN